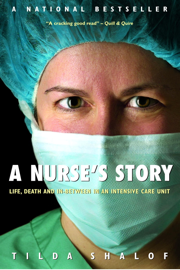 A Nurse's Story
The team of nurses that Tilda Shalof found herself working with in the intensive care unit (ICU) of a big-city hospital was known as "Laura's Line." They were a bit wild: smart, funny, disrespectful of authority, but also caring and incredibly committed to their jobs. Laura set the tone with her quick remarks. Frances, from Newfoundland, was famous for her improvised recipes. Justine, the union rep, wore t-shirts emblazoned with defiant slogans, like "Nurses Care But It's Not in the Budget." Shalof was the one who had been to university. The others accused her of being "sooo sensitive."
They depended upon one another. Working in the ICU was both emotionally grueling and physically exhausting. Many patients, quite simply, were dying, and the staff strove mightily to prolong their lives. With their skill, dedication, and the resources of modern science, they sometimes were almost too successful. Doctors and nurses alike wondered if what they did for terminally-ill patients was not, in some cases, too extreme. A number of patients were admitted when it was too late even for heroic measures. A boy struck down by a cerebral aneurysm in the middle of a little-league hockey game. A woman rescued – too late – from a burning house. It all took its toll on the staff.
And yet, on good days, they thrived on what they did. Shalof describes a colleague who is managing a "crashing" patient: "I looked at her. Nicky was flushed with excitement. She was doing five different things at the same time, planning ahead for another five. She was totally focused, in her element, in control, completely at home with the chaos. There was a huge smile on her face. Nurses like to fix things. If they can."
Shalof, a veteran ICU nurse, reveals what it is really like to work behind the closed hospital curtains. The drama, the sardonic humour, the grinding workload, the cheerful camaraderie, the big issues and the small, all are brought vividly to life in this remarkable book.
Read the Table of Contents from A Nurse's Story
Read an excerpt from A Nurse's Story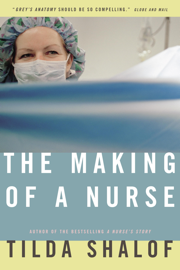 The Making of a Nurse
The bestselling author of A Nurse's Story is back with more insider stories.
Tilda Shalof has been a caregiver all her life — at home for her family, at work for strangers — but her skills didn't come easily. From when she was a child taking care of her sick parents to her current position on an ICU team in one of Canada's largest hospitals, there have always been daunting challenges and worthy rewards for her work. With her trademark humour, unflinching honesty, and skilled storytelling, Shalof describes her experiences becoming the capable nurse she is today.
After graduation from nurse's college, finding no jobs in Toronto, Shalof travelled to Tel Aviv, Israel, to work in a hospital for the first time, finding adventure and young love in the process. A summer stint as a camp nurse came with requests for condoms, strange allergies ("Misty has reactions, but we don't know to what"), and overly protective parents (also known as "helicopter parents" for their tendency to hover over their children). The Making of a Nurse contains these stories and much more, and they are comforting, entertaining, shocking, funny, heart-warming and heart-wrenching. From hospitals to home care, they will give readers a glimpse into the life of a nurse and the hidden medical world.
Read the Table of Contents from The Making of a Nurse
Read an excerpt from The Making of a Nurse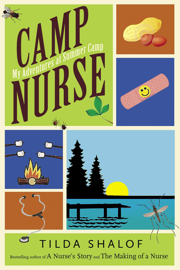 Camp Nurse
The bestselling, critically acclaimed author of A Nurse's Story and The Making of a Nurse is back to describe her experiences as a summer camp nurse.
After years of working in intensive care units caring for critically ill adults, Nurse Tilda Shalof now turns her attention to healthy patients — children at summer camp. In this reminiscence of six summers at a variety of camps, Shalof opens a window into the world that is a utopia for the vast majority of children, the proverbial "happy campers," but sometimes also a place of intense misery for a few.
Throughout the summers, as kids troop through the infirmary with a variety of ordinary — as well as some quite extraordinary — complaints, Shalof describes how she assesses, diagnoses, and treats them all, from pesky lice infestations and scratchy bug bites, to broken arms and severe accidents. But Shalof finds that more often than not, she is treating the psychological maladies. She befriends kids from families going through bitter divorces, girls with eating disorders, a camper who attempts suicide in a desperate plea to be sent home, a teenager grieving the recent death of his father. Whatever the problem or concern, it is to the camp nurse that kids — and counsellors — go for help.
These anecdotes are told in a light-hearted tone, full of good humour and lots of laughs. Shalof's stories are wildly entertaining and will satisfy the twinges of nostalgia every parent feels when sending their kids away to camp. This personal memoir shows all the ways in which nurses do their best to keep everyone at camp safe and healthy.
Buy Camp Nurse: My Adventures at Summer Camp
Read the Table of Contents from Camp Nurse
Read an excerpt from Camp Nurse
Lives in the Balance
A collection that provides an insider's view into the world of ICU nurses
Edited and introduced by bestselling author Tilda Shalof, this is a compelling collection of stories by twenty-five nurses working in the ICU, a fast-paced, highly technological environment where patients' lives hang in the balance. From cardiac, medical, surgical, and trauma units, ICU nurses share their experiences of caring for critically ill patients after major surgeries, illnesses, accidents, traumas, and even multiple-organ failures. In their own words, these highly skilled professionals impart their knowledge and insights, along with accounts of the many challenges, stresses, joys, and dilemmas they face in the ICU. The intense emotional and psychological issues that patients, families - and the nurses, themselves - undergo are also explored. This fascinating collection allows us to peer over the shoulders of nurses while they provide life-saving care to patients.
Buy Lives in the Balance: Nurses' Stories from the ICU
Read an excerpt from Lives in the Balance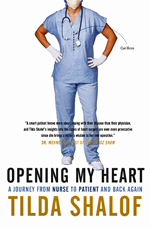 Opening My Heart
Tilda Shalof had been taking care of critically ill patients in an intensive care unit for more than twenty-five years, but taking care of herself had never been a priority. That is, until she could no longer ignore her extreme fatigue, shortness of breath, and crushing chest pains. When the results came in, it was time to face the music: Tilda required immediate open-heart surgery to replace a defective valve and to repair damage done to this vital organ.
Tilda's story takes readers from the diagnosis through all her fears and concerns, the or, her stay in the icu, the cardiac ward, recovery at home, rehabilitation, and ultimately, her return to work in the hospital armed with new insights on the patient's perspective. She learned more in her week-long stay as a patient than in all her years caring for the critically ill, especially about trust and working in partnership with her caregivers.
In Opening My Heart, Shalof expertly weaves recollections from her career and accounts of other nurses' experiences into her own story, creating the perfect marriage between fascinating clinical detail and a personal journey of healing. Throughout it all is Shalof's warm, friendly voice and humorous outlook. Nurses everywhere and anyone who's ever been a hospital patient, or who is currently hospitalized or who might be one day (and those who love them!), will be empowered, enlightened, comforted, and entertained by this book.
"A smart patient knows more about coping with their disease than their physician, and Tilda Shalof's insights into the rigors of heart surgery are even more provocative since she brings a nurse's wisdom to her own operation." –Dr. Mehmet Oz, Host of the The Dr. Oz Show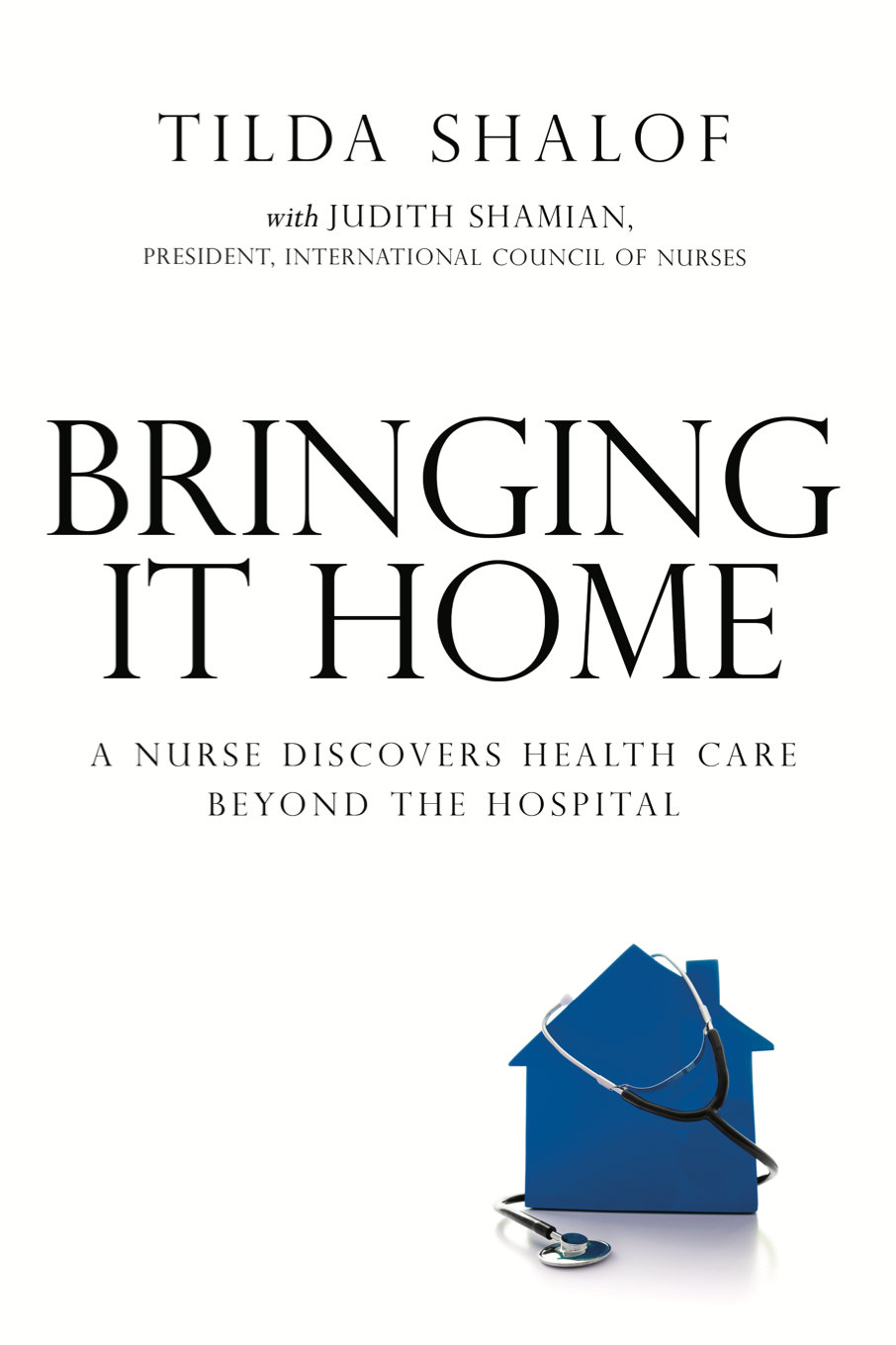 Bringing It Home
A Nurse Discovers Health Care Beyond the Hospital
In her latest book, ICU nurse Tilda Shalof leaves the hospital behind to accompany the nurses who work in homes, from mansions to shacks to the streets, all across the country. Working with the Victoria Order of Nurses, a Canadian not-for-profit organization that provides home and community care, Tilda meets a wide variety of nursing professionals who offer untraditional care, sometimes in unlikely settings. This book not only describes a personal journey, but it also brings to light new health care issues. North America is on the cusp of change as the needs of our aging population put pressure on our health care system; more people need care in their homes and community supports to stay well. Yet this book is not just about caring for our elderly; Tilda also discovers how nurses care for people with a home, living on the street, for teen parents, returning soldiers with PTSD, those with physical disabilities, sex trade workers, and complex pediatrics. Shalof tells her story with her usual engaging, conversational style, and with this book, she continues to enlighten, surprise, and entertain readers.
"In Bringing it Home we learn about healing, recovering, dying with dignity, and all in between. Shalof's book awakens ongoing emotions, making us in one moment laugh and in the next, cry." – Doris Grinspun, CEO Registered Nurses' Association of Ontario (RNAO)
International Editions of Tilda Shalof's Books

Tilda has publications in several languages. Email Tilda for more information.